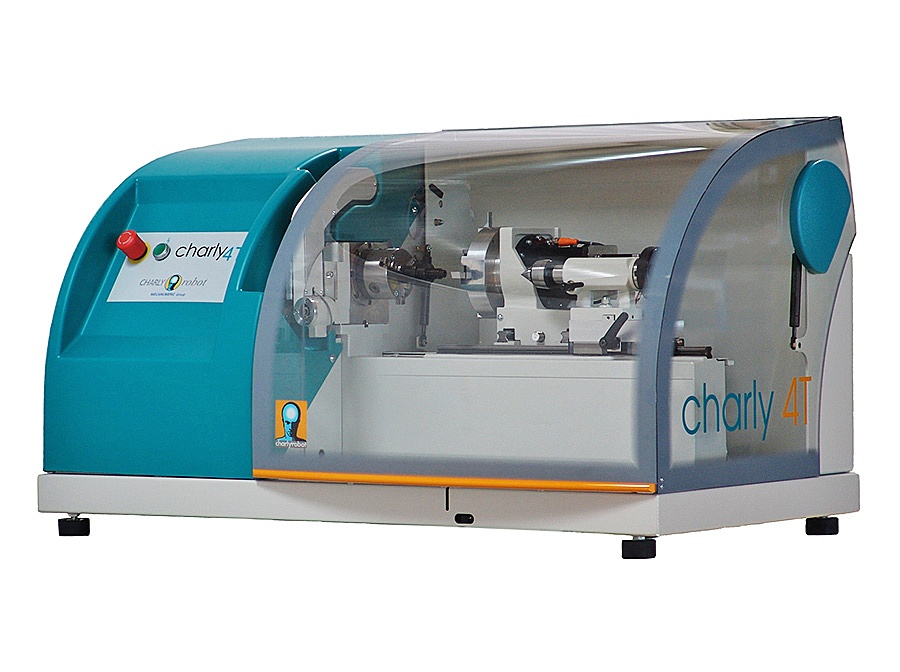 Charly4T
This easy-to-use, fully safe CNC training lathe is ideal for training purposes and for turning prototypes and small production runs.
Description
Technical datas
Fields of activity
A worthy heir to the CharlyRobot philosophy, the Charly 4T CNC lathe lets you get your machined parts out the door in just a few clicks, thanks to its user-friendly interface that simplifies the manufacturing process.
For a limited budget, take advantage of the advanced functions needed to perform the main turning operations on soft materials and metals, such as constant speed machining, tool change during programme execution, and machining speed parameterisation.
IDEAL FOR RAPID PROTOTYPING AND SMALLER SERIES OR FOR EDUCATION (secondary schools, colleges, training centres, etc.)
Easy to use and install
Complex machining with the option of changing tools
Didactic and educational use
Intuitive, user-friendly interface simplifies the manufacturing process
Secure, completely enclosed system: enclosed, hooded
The Charly 4T is available in 2 configurations:
Standard Pack: manual tool change
Pro Pack: automatic tool change, larger chuck and more powerful spindle
STRENGTHS :
Industry-standard ISO programming.
Allows the main turning operations (facing, turning, grooving, reaming, drilling, threading, following complex profiles).
Continuously variable spindle speed for machining at constant cutting speed.
Allows machining at constant feed speed.
4 or 8 tool automatic turret (optional).
Automated tool measurement with 4-button probe.
Spindle rotation direction reversal via program.
Ergonomic design.
Compact footprint.
Automatic graphic programming using CAD/CAM software.
Turning of soft materials and soft metals (brass, aluminium, etc.).
Complies with European directives.
Available with a technical cabinet on request.

TAKE ADVANTAGE OF MÉCANUMÉRIC'S TECHNICAL SUPPORT
Technical support: telephone (hotline), e-mail, remote assistance
Troubleshooting: all technical questions, curative and preventive maintenance
Advice: all types of needs (choice of tools, programming, settings, etc.)

MÉCANUMÉRIC, a partner in education and fablabs
Charly4T Standard
Charly4T Pro
Distance between point
250 mm
Max diameter ot the turned part on 50 mm
100 mm
3 jaws chuck diameter
80 mm
125 mm
Spindle cone
CM3
S1 spindle max power
0,4 kW
0,75 kW
Tool-holder turret
2 positions
4 positions
X stroke
65 mm
Z stroke
250 mm
Lenght
1200 mm
Depth
685 mm