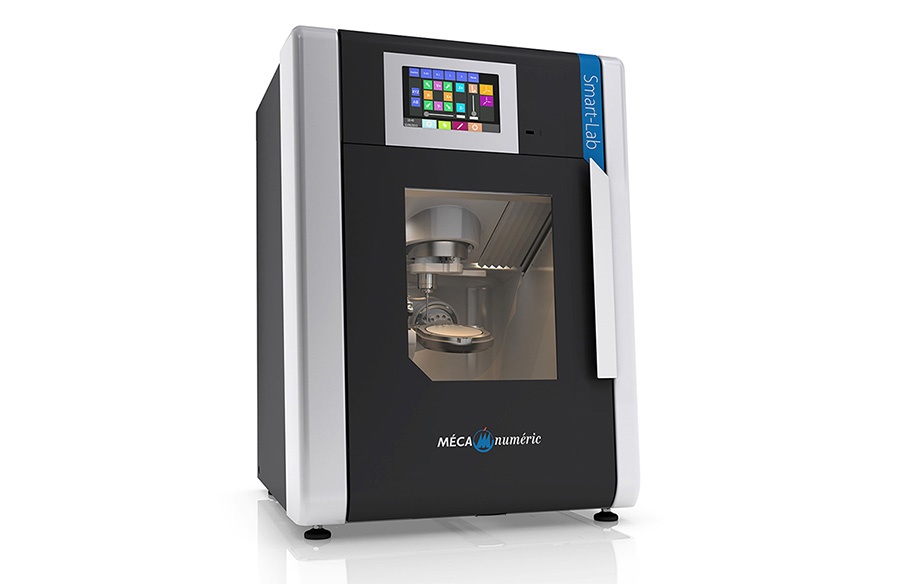 SMART-LAB
Our Smart-Lab solution has been designed for intensive and accurate machining of plastic composite resins, electronic samples, brass or aluminum pieces, PPMA parts.
Description
Technical datas
Flexibility of production and compactness
Based on an integrated compressor, our Smart-Lab does not require more than a standard electrical plug. You can position the Smart Lab on any place and add an
optional silent exhaust system. You can cut with your 4 axis or 5 axis head, with lubrication or not.
STRENGHT :

• No difficulty to install into a fab lab or into a prototyping shop.
• A 12 tools changer with an automatic tool changing system.
• Easy to connect to CAM softwares.
• Our small machine design is due to the type of cinematic adopted.
• Accuracy of machining has not been sacrificed when designing the Smart-Lab.
• A spindle power of 500W, brushless servo motors.
• Top notch Tech : Ball screws, rectified linear guides are part of this design in order to ensure the high level of reliability of the famous Mecanumeric products.
• Easy control by means of our colour tactile monitor.
• Standard tooling format.
• Standard spare elements.
| | |
| --- | --- |
| | SMART-LAB |
| Number of axis | 5 |
| Angular maximum for the rotary axis | 4 : +- 30° / 5 : 0 > 180° |
| Brushless motors | √ |
| Spindle 500W at 60000 tr/min | √ |
| Automatic tool changing system | √ |
| Number of tools in changer | 12 |
| Tooling measurement system | √ |
| Tooling breaking sensors | √ |
| Tooling wearing sensors | √ |
| Water cooling | √ |
| Dimensions L x P x H when door closed - mm | |
| Weight in kg | 100 |
| Com Ports | 1 USB + 1 Ethernet |
| Electrical Tension | 230 VAC 50/60 Hz |