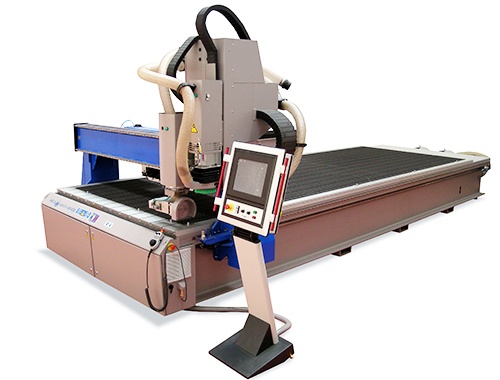 MECABOND
High productivity 4 axis multi head milling CNC machine optimized for sign applications and frontages in the building area.
Description
Technical datas
Fields of activity
MULTI-SPINDLE CNC 4-AXIS MILLING MACHINE

High productivity system for the rapid cutting of sheet materials in the building (facades), sign or fitting out of commercial vehicles (refrigerated trucks, etc.) sectors.
4-axis CNC milling machine that can be equipped with a high-power vertical electrospindle and a horizontal electrospindle that can be rotated 360 degrees.

TECHNOLOGIES
Kinematic assembly with fixed table and mobile gantry.
Monobloc frame in mechanically welded steel.
Mobile gantry in mechanically welded steel.
Vacuum tray in aluminum profile.
Support of the plates by the vacuum generated either by lateral channel turbines or by vacuum pumps with nozzles.
Automatic selection of zones by solenoid valves. Timing stops automatically retractable plates.
Motorization by AC Brushless servomotors on the 6 axes (X1-X2-Y-Z1-Z2-C).
Transmission by high precision rack and pinion systems for X and Y axes, ball screw on Z axes, gearbox without play on C axis
Guides by rectified rails and pre-loaded pads with ball circulation.
MECANUMERIC CN7000 Digital Control with 15 inch touch screen, integrated hard drive, Ethernet port, USB port. Import of files in ISO code.
Wide choice of horizontal and vertical electrospindles.

Some of the materials that can be used (depending on the electrospindle and the tool chosen):
Rigid plate plastics (PMMA-PC-PS-PVC-ABS ..)
Expanded plastics and cellular sheets
Rigid foam (PU- PS-…)
Semi-rigid foams (KAPA line®,…)
Composite materials for the building industry: Alucobond®, Dibond®, Reynobond®, ..
Composite materials for industry (polyester resin filled with glass fiber, carbon fiber, etc.)
Wood and wood products
Polyester resins
Light alloys aluminum base or copper base
SOME OF THE POSSIBLE OPTIONS
Chip extraction by a wide choice of industrial suction groups.
Different vacuum plates.
Tool magazine on board (capacity 6 cones) with tool length sensor.
Tool lubrication system / Tool / material cooling system
Suction zones with automatic selection controlled by numerical control.
SIEMENS SINUMERIK® 840 Di digital control and SIEMENS servomotors.
Retractable timing stops (5 lateral stops and 3 frontal stops for MB60xx or 3 and 2 for MB42xx).
Automatic dispenser for VILMILL® support film.
Remote electronic crank.
Safety zone around machine controlled by radar or light curtains.
Automatic unloading loading system by spreader or interchangeable tables.
TECHNICAL CARACTERISTICS :
Maximum speed: 1000 mm / sec
Acceleration: 1 ms²
Repeatability: +/- 0.05 mm
Resolution: 0.001 mm
DIMENSIONS
| | |
| --- | --- |
| | MB 6020 |
| X stroke | 6050 |
| Y stroke | 2070 |
| Z-axis travel in mm (maxi/working travel) | 340/100 |