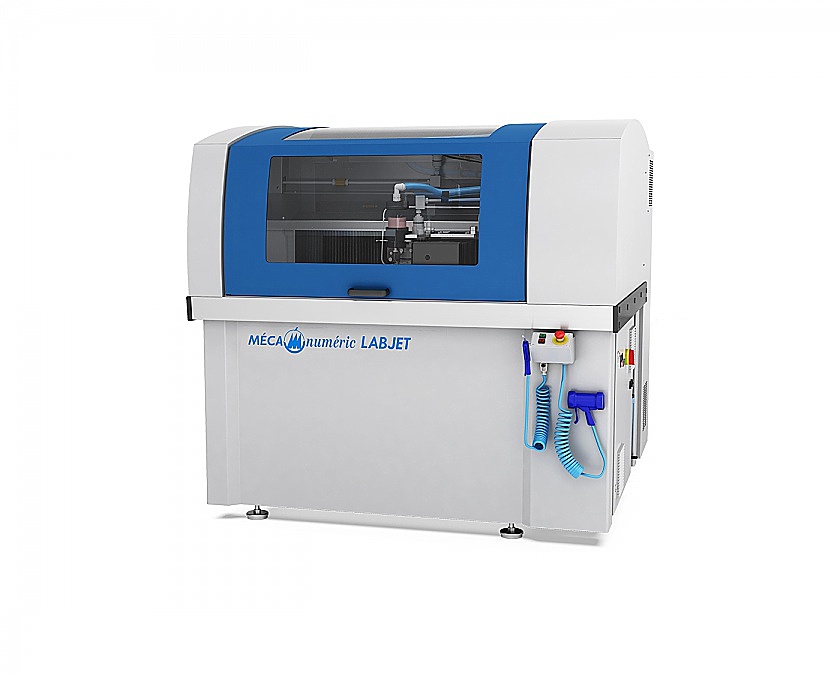 LABJET
Efficiency and accuracy of the water jet cutting combined in a compact size with industrial performances.
Description
Technical datas
Fields of activity
The LABJET is the ideal machine to meet the requirements of the industrials regarding accuracy and precision while controlling their budget. Delivered in a versatile format.

Proposed with a high-pressure pump 4000 bars of 10 to 20 HP, this machine enables the pure water jet cutting of soft materials or abrasive water cutting for hard materials.

Compact and easy to use, the LABJET combines precision, power and security for the industrial works.

STRENGTHS

• Compact equipment with integrated high-pressure pump.
• Fixed table in working area 1050 x 750 mm.
• Cutting of soft materials with pure water (rubber, plastic materials, foam, leather…) and hard materials (metal, glass, stone, composites materials…) with abrasive option.
• High pressure pumps 4000 bars.
• Driving system with numerical control CN9000 ISO and CAM software with specific applications for water jet cutting.
• 2D cutting head.
• Machine completely closed, can be operated safely even in school environment or general public.
The LABJET has a one-piece steel frame with integrated water collection tray and an aluminium gantry. The table top is made of galvanised steel for abrasive cutting, or with a plastic honeycomb coating for pure water cutting.
The LABJET's kinematics incorporate precision guides using ground rails and ball-bearing slides, the XY transmission is equipped with ball screws and the drive system is powered by "AC Brushless" servomotors.
| | |
| --- | --- |
| | LABJET |
| X stroke | 1050 |
| Y stroke | 750 |
| Z stroke (manual) | 50 |
| Maximum dimensions of the plates in the tank in mm | 1200x1000 |
| Overall length in mm | 2024 |
| Overall width in mm (settling bowl not included) | 1826 |
| Height in mm, closed cover / opened cover | 1750/2440 |
| Weight in kg empty tank | 1600 |