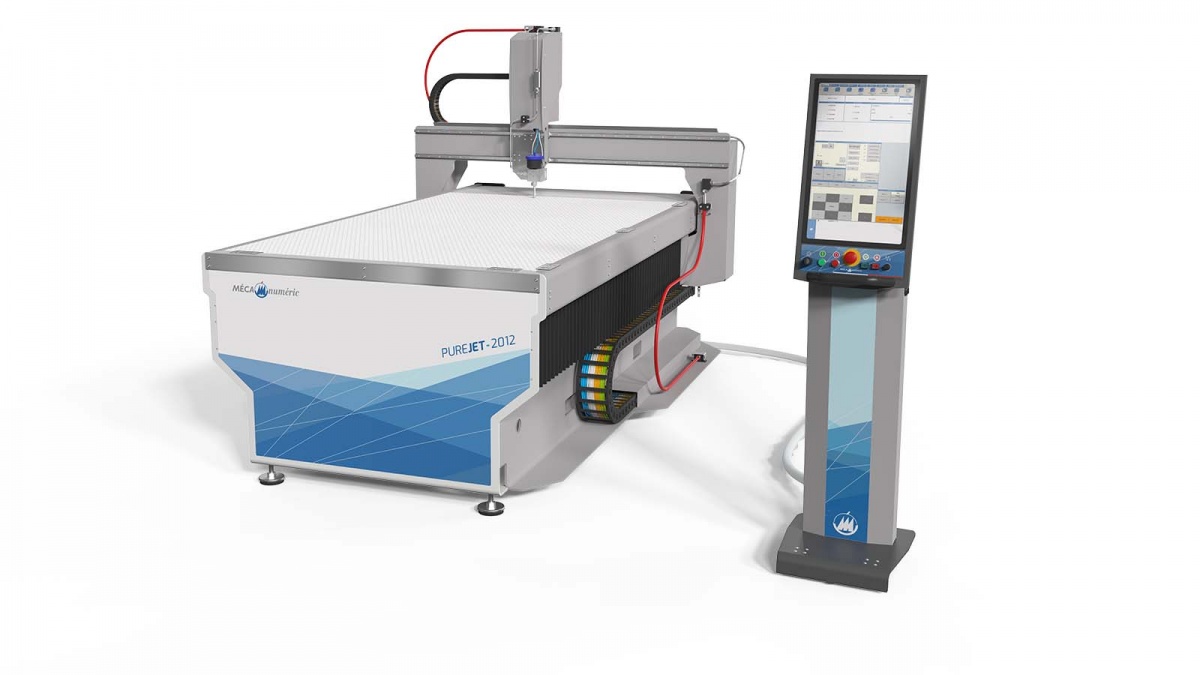 PUREJET
Water jet machine designed to simplify cutting of smooth or light material
Description
Technical datas
Fields of activity
Water jet machine to simplify cutting of smooth or light material designed for industrial use
Entirely customizable and available in various sizes, PUREJET range is perfect for many materials :
Rubber and derivatives
Foams of all densities
Leather and similar
Low-thickness plastics and derivatives
Rock wool, glass wool, plasterboard, etc.
Cork and thin natural wood (marquetry, etc.)
Solid or corrugated paper and cardboard, composites NOMEX® type or similar
Woven or non-woven canvas, tarpaulins, etc.
Pre-impregnated fabrics and mats of glass or carbon for the production of composite parts
STRENGHTS
Cuztomizable equipment
3 differents sizes
Single or multi-heads
Visible laser
Additionnal modules for environment and operator protection
4136 bars HP Pumps created for this range
Oil/water intensifier for 4000 bar continuous pressure with low maintenance cost
10HP version available in 230V single phase power supply
Optimized space
Compact format
Positionning stops
HP flexibles hoses
Latest generation digital control
21 inches vertical touch screen on mobile control desk
Modern and user-friendly HMI
Programming up to 4 programs in cascading sequence
TECHNICAL DESCRIPTION
Structure : Monobloc structure in machinewelded steel and moving gantry in machine-welded aluminium.
Guidance : Grinded rails and preloaded ball bearings with NRII corrosion protection.
Transmission : Transmissions by coated helical rack and pinion on X and Y axes and by ball screw on Z axis.
Motorisation BRUSHLESS motors with absolute encoders on all axes.
DIMENSIONS
| | | | |
| --- | --- | --- | --- |
| | PUREJET 1012 | PUREJET 2012 | PUREJET 4020 |
| X axis travel in mm | 1050 | 2050 | 4050 |
| Y axis travel in mm | 1220 | 1220 | 2050 |
| Z axis travel in mm | 150 | 150 | 220 |
| Maximum material width on table | 1240 | 1240 | 2070 |
| Length in mm (pumps not included) | 1800 | 2850 | 5220 |
| Width in mm | 1995 | 1995 | 2950 |
| Height in mm | 1740 | 1740 | 2495 |
| Average weight in kg | 1000 | 1400 | 3750 |
HP PUMPS 4136 BARS
MHP 1040
MHP 2040
MHP 3040
Power HP/ kW
10 HP / 7,5 kW
20 HP / 15 kW
30 HP / 22 kW
Maximum pressure
4136 bars
4136 bars
4136 bars
Advised working pressure
3800 bars
3800 bars
3800 bars
Maximum flow litres/minutes at pressure 3800 bars
0,86 l/min
1,62 l/min
2,45 l/min
Pump capacity at 3800 bars:
max. number of heads/max. nozzle diameter
2 / 0,10 mm
or 1 / 0,15 mm
2 / 0,15 mm
3 / 0,15 mm
Pump capacity at 3000 bars:
max. number of heads/max. nozzle diameter
1 / 0.18 mm
or 2 /0.12 mm
1 / 0,25 mm
or 2 / 0,18 mm
1 / 0,33 mm
or 2 / 0,22 mm
or 3 / 0,18 mm
230V single phase power supply a
nd required Amperes per phase (pump only)
38 A
non available
non available
400V three-phase power supply and required Amperes per phase
(machine + pump)
3 x 16 A
3 x 29 A
3 x 45 A
Pump module overall dimensions (L x W x H) in mm
1600 x 800 x 1300
1600 x 800 x 1300
1600 x 800 x 1300